Why Us
Agnes Lim & Associates is a part of the Prestige Raffles Group, which is one of the most accomplished organisation in the history of Manulife Singapore. Being an integral part of this success is key. We are able to access and leverage on many qualitative aspects of the organisation and this translates directly to the success of our Financial Planners.
As part of her active involvement with the management team, Agnes serves as a key member of the group's Training and Development commitee. She is a regular trainer for the Financial Planners in the group besides taking part in other R&D initiatives.
Leadership
Tan Sia Keng
AFP, CPA
Senior Branch Director, Prestige Raffles Group. Manulife Singapore.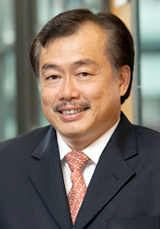 In 1983, Sia Keng achieved the accolade of second place (worldwide) in the ACCA Final Exam.

His career spans from being an Auditor in KPMG to Financial Controller position in HDB, and subsequently in senior management with Manulife Financial, Singapore.

In 1991, his bold and entrepreneurial move saw him took on the management of a dynamic Insurance and Investment Agency unit, nurturing it to be the most accomplished agency in Manulife Singapore today.
Sia Keng's vision is strongly rooted in sound advisory practices, technical knowledge and an entrepreneurial approach to the business. This culture of enterprise has led the group to many top acolades in the company over the years. The spirit of "doing the right thing" and being forward-looking created a strong foundation for our business platform and working systems that many of our Financial Planners have come to trust and rely on.
Entrepreneurial Practice
Financial Planners in Prestige Group are treated with respect. We recognise that every individual is unique and gifted with different strengths. We create and add value to each other through this recognition. While the group invest regularly in research and development, each Financial Planner is led to adopt business solutions that build his business like an entrepreneur. This respect for the individual and approach to enterprise is the reason behind many of our long-serving associates. Many of them have been with us for more than ten and some even twenty years.
Training Emphasis
Today, the Prestige Group is equiped with perhaps the most advanced personal branding and marketing systems in production in the world. This was unofficially verified when international trainer Bill Moore of Kinder Brothers saw the systems a couple of years ago and commented, "I've seen such applications only in a couple of agencies outside Singapore, but nothing at this scale."
We place emphasis on the following;
Systems
Many people talk about systems, but few work them. We find simple and effective solutions that have been proven to work. From skills development to your daily operation as a Financial Planner, we guide and help you to find your own voice and put a sensible working system behind you. There is no one-size-fit-all solution because every individual is unique. This is where our understanding and experience in the business becomes an asset and help make your personal vision in life a reality.
Role Modeling
The most important part of a vision is not the vision statement itself. It is in the ability to clearly visualise the journey in getting to your eventual destination. Who is your role model? How much do you know about your role model? Role modeling development is a key element of our training system. To be a successful Financial Planner, you need to be strengthened in the various aspects of your business. Establishing who your role models are in these areas is key. In fact, this is the substance that fills the gap between your aspiration and achievement. We have made it work and will show you the way.
Personal Branding and Marketing
In today's digitally-wired world, your presence can be strongly felt within your network of friends, prospects and clients. However, this is only possible if you have done all the right things in positioning yourself. We set up an personalised web presence for each of our Financial Planner. It presents you professionally and showcases your business. It is created to project confidence and send the message that you are a serious practitioner, a person one should get to know. All new Financial Planners who join us have their web presence set up within five working days. You will be trained in every aspect of personal branding and marketing. We define marketing as "placing you in a favorable position before the sale."
A Leads-based Business Model
Any business worth building must be worth referring. We believe that people like to refer good value services and products to their friends, whom they care for. This is part of our human nature. In Prestige Group, we take this seriously. Our Financial Planners are trained within service centric business model. We believe people will forget what you say, but they will not forget how you make them feel. Fulfilling the real purpose of a Financial Planner is our mission for every client. We generate leads by asking clients for referrals after a good job accomplished. More than an affirmation, it is our core practice to achieve a sustainable business.
Structured Role Play Training
All successful Financial Planners have one key trait in common; they know what to say and do in every challenging sales situation. Likewise, for those who have failed in this industry; many do not know what to say and do in challenging sales situations. We do not think that success is a mere number game. Rather, it is the outcome of a well thought-through development process. At Prestige Group, you will receive our experienced Financial Planners' decades worth of on-the-ground knowledge through a three month intensive Role Play Training. We have done the R&D, you can now benefit from it.
View some of our role-play training videos


Speak to Us to Explore the Possibilities
There are more to the unique work and direction that we are charting for all our Financial Planners. Success is not an accidental event. We are keen and happy to share them with you. Do call us to set a time for an informal session. We would be very happy to meet you.